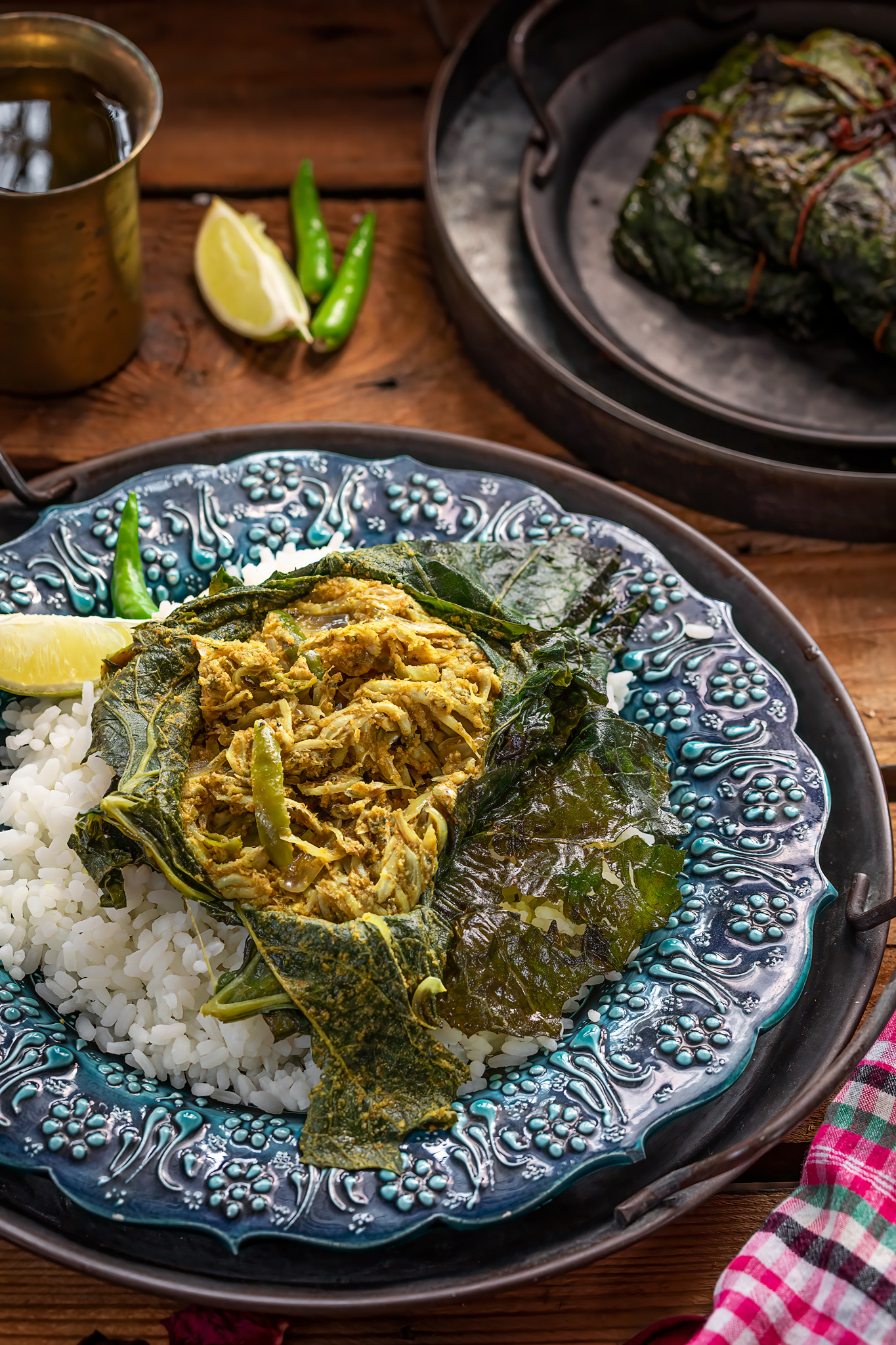 Kachki Machher Paturi
Kachki Machh/ Ganges rives Sprats steamed in bottle gourd leaves ( কাচকি মাছের পাতুরি)
In this recipe ,Kachki Machh/ Ganges rives Sprats are marinated with different available spices and then wrapped in oily Pumpkin or bottle gourd leaf, and then roasted in nonstick pan or may be deep fried. We use these Pumpkin or bottle gourd leaf because we love to eat the spice marinated leaf as well. But if you can not find these leaves, banana leaf is also a good option. This is a typical Bengali dish. This recipe is very easy to prepare, effortless, no need to cook for long time.
# Things we need to make this rcp
-Fresh and cleaned bottle gourd leaves ( tender baby leaves take 5-6, and for wrapping take 8 matured and large leaves )
-kachki machh/ Ganges rives Sprats 250 gm (cleaned, washed and drained)
-Onion thin sliced 1 cup
-Green chili 10 thin sliced (or as per taste)
- 2 tomatoes chopped
- coconut paste 2 tbsp
- 2 tsp roasted onions /bereshta crushed (optional)
- 5/6 baby leaves of bottle gourd chopped finely
-coriander leaf chopped about 3 tbsp
-garlic paste half tsp
-ginger 1 tsp grated
-1 tsp turmeric powder
-half tsp red chili powder
-half cup mustard oil
-salt half tsp or to taste
We have to keep aside the large bottle
gourd leaves and mix the other spices , first in the bowl take onion, green chili ,salt and with hand mix well, then add coconut paste nd the other spices and again mix well. At the end add the fish and gently mix the spices with it and keep it 20 min for marination .
-In the meantime prepare the leaves. Boil some water, take each leaf & dip into the boiled water to make the leaf soft. Now grease the darker side with some mustard oil and keep aside for later use.
-After 20 minutes of the fish being marinated , take each greased bottle gourd leaf, put 2-3 tablespoons of the marination and bind with thread into small packets. This is a very delicate step, do not hurry, otherwise the leaf can be teared. If 1 leaf is not enough, put another to support it.Now heat a nonstick pan heat 2 tablespoons of Mustrd oil in it, place 2/3 fish packet ,cover and cook in medium low flame for 15 min each sides.
Serve with steamed rice ,lemon, green chili.