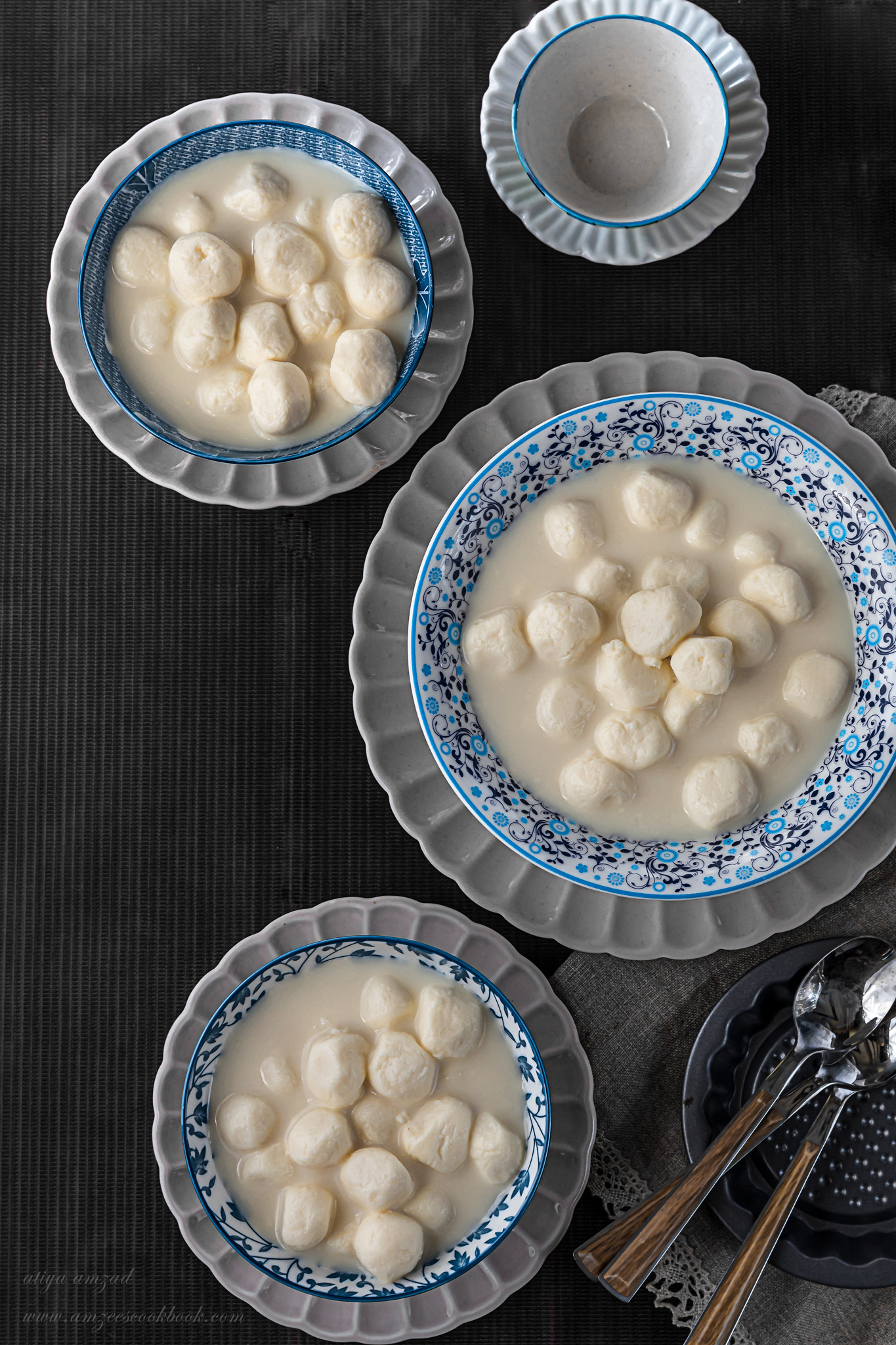 Roshmalai
Rosh Malai (Roshomalai) or Rasmalai is basically a creamy and milky syrup that consist of Chhana (cottage cheese) balls. The syrup is purely made from milk, sugar and cream . The super soft cottage cheese in the recipe is the essence of the recipe and makes it a great dessert for special occasion and is always served chilled.

3 key pointers to make soft Roshmalai
- making soft chhana/chena/cottage cheese
-Proper kneading
-boiling the cottage cheese balls for the right amount of time on a right flame/heat.

INGREDIENTS

For Chhana/chenna:

▢2 liter milk
▢2 tbsp vinegar
▢1½ cup sugar
▢3 pod cardamom
▢7 cup water

For Rabdi:

▢1 litre milk
▢few saffron
▢pinch saffron food colour
▢½ cup sugar
▢¼ tsp cardamom powder
▢2 tbsp nuts (chopped)

After making chhana and kneading them properly we need to make tiny balls with the chhana and prepare the Rabdi separately.
Make the chhana, Squeeze the Chhana gently and hang for 30 minutes. Now take the moist paneer and crumble gently. Using the palm, start to knead gently. Knead until the Chhana turns smooth without any grains. Do not over-knead here as the cheese balls will turn hard. Pinch a small ball sized chhana and prepare smooth crack free balls.

For making Rabdi in a large pan heat 1-litre milk, few saffron and pinch of saffron food colour(optional).Stir and get the milk to a boil. Continue to cook until the milk thickens slightly. Now add ½ cup sugar and continue to boil. Do not make very thick milk as it will be difficult for chhana to absorb milk. Also, add ¼ tsp cardamom powder and mix well.
For making sugar syrup, in a large vessel, take 1½ cup sugar, 3 pods cardamom and 7 cup water. Stir and dissolve sugar. Boil the water for 5 minutes or until the syrup turns slightly sticky.
-Drop in a prepared cheese balls keeping the flame on high. Cover and boil for 7 minutes or until the size of the ball double.
Now time to place the cooked cheese balls in Rabdi. How to do it?
-Squeeze off the sugar syrup from the cooked Cheese balls. Place them in a tray and pour in prepared rabdi. Rest for at least 4 hours or until the Roshmalai is soaked well. Finally, enjoy Roshsmalai slightly warmed or chilled.