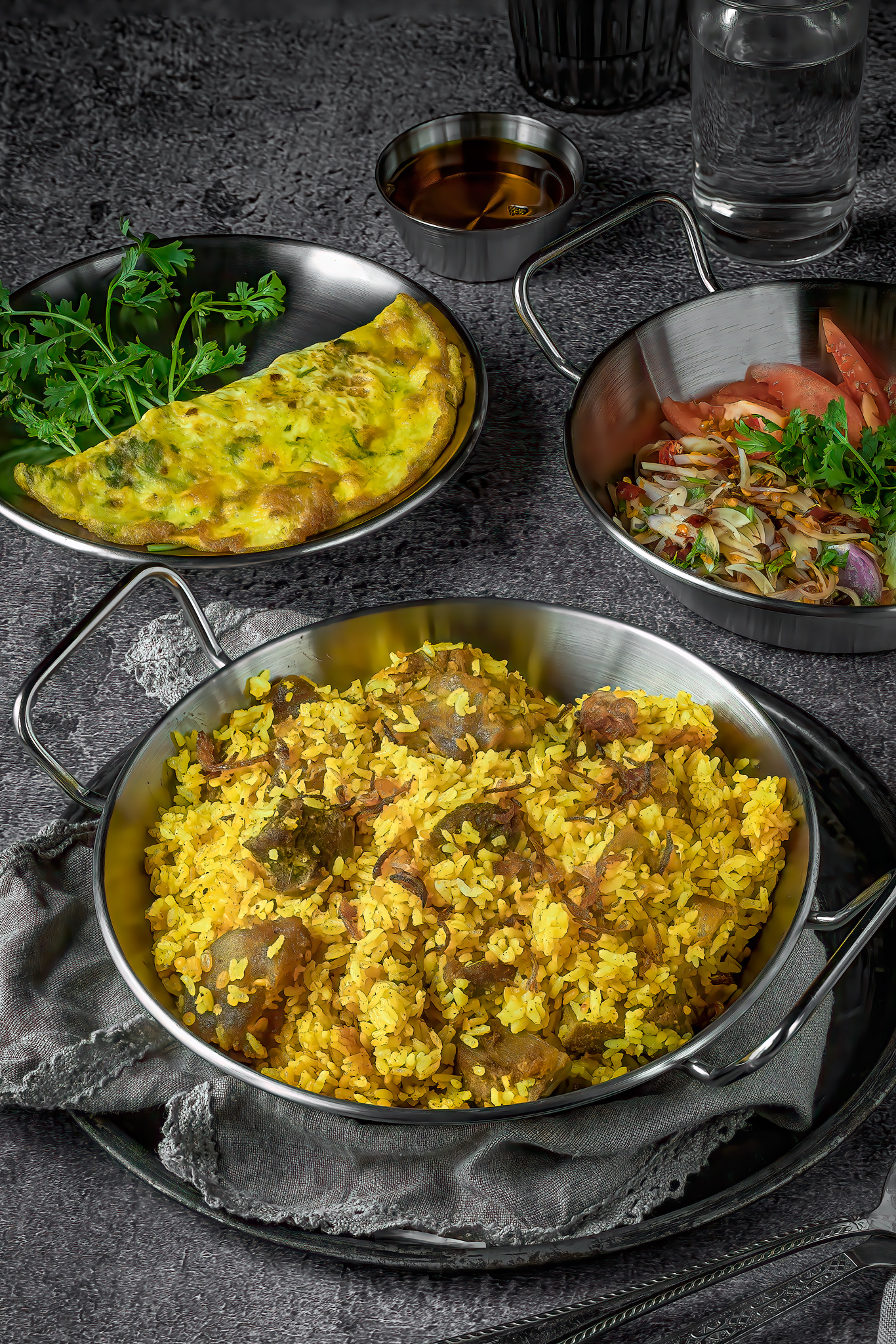 Beef Bhuna Khichuri with Egg Ommelette
Beef Bhuna Khichuri with Egg Omelet and Onion Salad !! Another pure Bangladeshi delicacy!!The Bengali variant of the ever-pervasive South Asian 'khichdi', made with nutty, roasted moong dal and fragrant rice. How you'll make it?? No worries ,here's the recipe!!
Ingredients-
1 kg beef, 3 cups rice, 2 and ½ cup moong lentil, 3 cups sliced onion, 2 tablespoons ginger paste, 2 tablespoons garlic paste, 3 tablespoons onion paste, 1 teaspoon turmeric powder, 1 tablespoon chili powder, 1 tablespoon coriander powder, 1 tablespoon roasted cumin powder, 6-8 green chilies, 4 cardamoms, 2 cinnamon sticks, 5-6 cloves, 2 bay leaves, ½ cup mustard oil, 2 tablespoon soybean oil, 4 tablespoon ghee/clarified butter, Salt as your own taste.
#Now
Roast moong lentil on slow heat until lentil is crisp. But be careful - you do not need to burn it. And soak in water for at least 15 minutes. Then drain the water. Soak the rice for 15 minutes. Wash rice and strain it.
#Marinate
meat with all spices except cumin powder for at least half-hour. Take a heavy bottom saucepan and heat onion. Fry the sliced onion till it becomes golden brown. Take out the fried onion from oil and keep aside. In the same oil add marinated meat and bay leaves. Saute it till oil comes out. Add 3 cups water and cook it under closed lid till meat is tender. Add lentil and cook it with 5 minutes. Add rice and 6 cups hot water. Mix well and cook it under the closed lid on high heat 10 minutes.
#You
have to add fried onion, cumin powder, clarified butter, mustard oil and cook it on low heat 15-20 minutes. And now it's done. Make an egg Omelet . Also thin slice 2/3 onions ,1 clove garlic, some fresh coriander leaf finely chopped , 5/6 roasted dried chili and dash of mustard oil and salt to taste. Mix well with your hand . The Onion Salad is ready. You can always adjust the heat as per your preference .